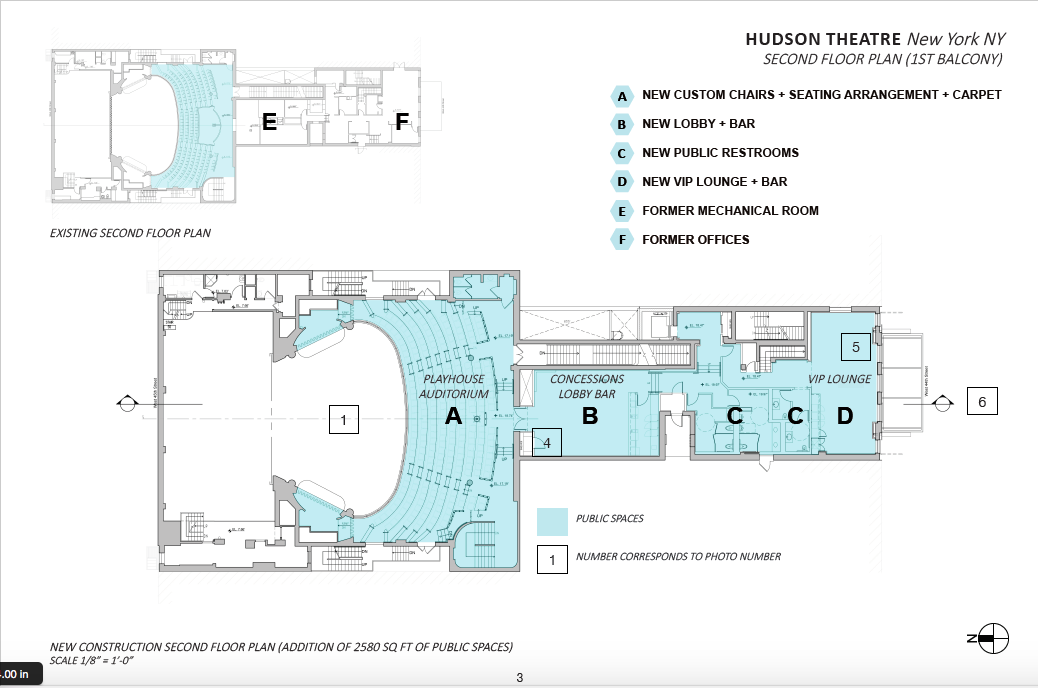 West 44th Street
Photography by Whitney Cox
The Hudson Theatre was opened in 1903 as a theatrical and architectural masterpiece. Fronting West 44th Street, it boasted more patron amenities than any other Broadway Playhouse. Built by producer Henry B. Harris, he and his wife lived in the upper two floors pictured here, until his death on the Titanic.
Box Office Lobby
Distinctive with its unusually large foyer, a triple-domed ceiling and a system of diffused lighting, the Hudson was liked by both performers and patrons. During the middle half of the twentieth century, this Broadway theater was used as a radio and television studio, home to the original Tonight Show with Steve Allen. First performance in NYC by Elvis…..
New Bar in Historic Tiffany Lobby
The Hudson Theatre was converted to a conference center in the early 1990s. The orchestra seating dish was replaced with cabaret style platforms for tables and chairs, the two balconies were fitted out with projection equipment for presentations in the stage house, and the under stage and under house spaces were converted to back of house functions.
Restored 1000 Seat Playhouse
Hudson has returned to its original use as a playhouse. Stewart Jones led the design team to carry out the changes needed in both the exterior and interior of this New York City Landmark. The for-profit operator also sought Federal and State Tax Credits to partially fund the project. The changes required public review from the Landmarks Preservation Commission.
Mosaic Tile Balcony Fascia
One of the extraordinary features in the Hudson
Custom Designed Seats & Carpet
Hexagons were part of the original plaster detail in the auditorium. We used that to create a new cast iron seat standard and carpet pattern
New Public Lobby at Mezzanine Level
The scope of work included replacing the orchestra seating dish to its original design, re-establishing dressing rooms, stage traps, the orchestra pit, basement-level support for stage activities and additional public amenities including toilets, lobby space and bar facilities. A new VIP Lounge was also created, with a physical connection to the rear of the Dress Circle level. New stage rigging and lighting has been provided to allow full performance capability in the Stage House.
Ambassadors (VIP) Lounge
The client challenged the architects to provide a renovated and restored Hudson Theatre a cut above the typical Broadway Theatre experience for both the patron and the performer. One that builds on its status as one of only 137 New York City Interior Landmarks.
Orchestra Level
The stage is serviced directly from 45th street, while the public lobby neck takes you to 44th.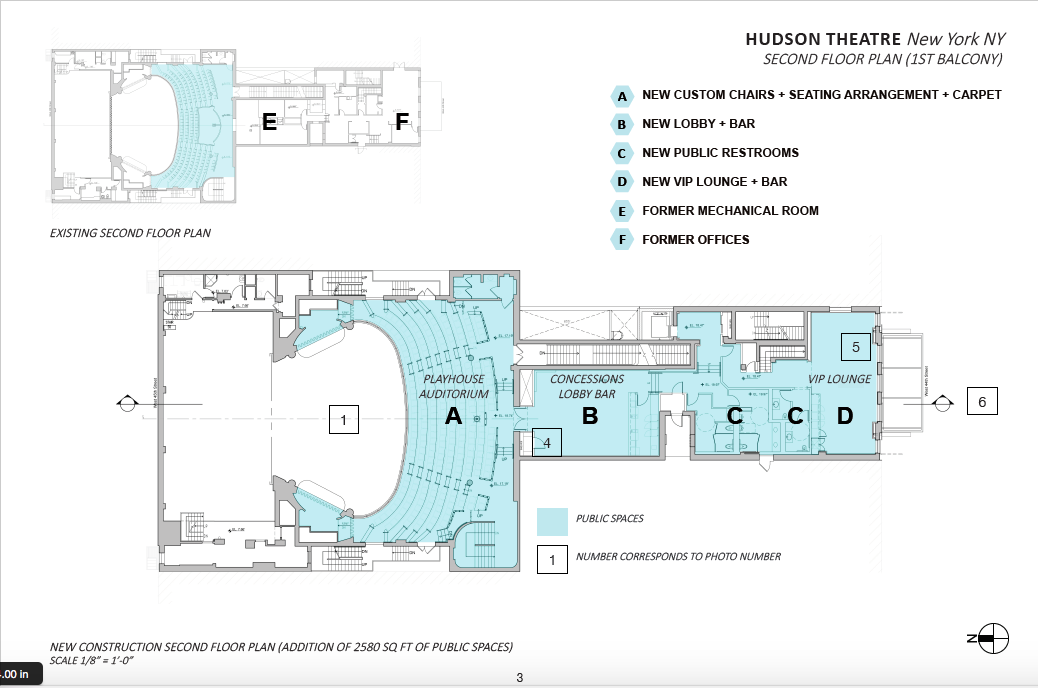 Mezzanine Floor Plan Before & After
Notice the before E & F spaces, and after B,C,& D spaces.
Building Cross Section
Again, the mezzanine concessions bar / VIP lounge is all new
Stewart Jones was the design principal for Martinez + Johnson Architecture. Charcoalblue was the theater and acoustical consultant, Goldman Copeland the MEP Engineer, and Yorke Construction the construction manager. Ambassador Theatre Group is the owner / client.